Product number: F100H
The Optional Flow Visualisation Investigation F100H duct has been designed for operation with the Hilton Airflow System F100. The duct allows students to investigate simple flow visualisation techniques including smoke and cotton thread.

A smoke generator generates a visual oil mist that is introduced into the airstream ahead of the test shape through a number of fine nozzles. Three standard shapes are provided that may be inserted in the duct and the flow around the shapes investigated accordingly. Two of the shapes, the aerofoil and the triangle, may be rotated in the duct in order to change, the flow field around them. The three shapes, fit into a circular hole in the rear of the duct and are held in place by spring clips.

The smoke generator consists of a consul with a main switch, an internal pump and a flow control valve that controls the flow of smoke generating fluid through the smoke wand hose. Smoke generating fluid is supplied to the console from the smoke fluid reservoir.

At the end of the hose is the smoke wand, which has an internal heater controlled from the console. By adjustment of the flow control valve the volume of smoke emitted from the wand may be controlled.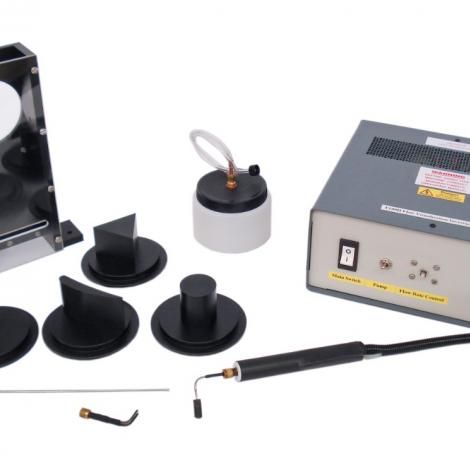 Specifications and resources
Smoke Wand
Cylinder Shape
Aerofoil Shape
Triangle Shape
Flow Rate Control
Residual Current Circuit Breaker