Product number: H931
The H931 Steam to Water Heat Exchanger Unit has been designed to provide visual and quantitative results related to heat transfer in shell and tube type water cooled condensers.

Three interchangeable manifolds allow investigation of single, double or four pass cooling water flow through the condenser tubes.

The unit is self-contained and designed for bench top use having its own steam generator and condenser tubes housed in a single thick walled glass cylinder.

Instrumentation monitoring the cooling water flow rate, temperature and pressure drop through the tubes allow an interesting and important range of experiments to be conducted. The unit is easily controlled and stabilises quickly allowing many different conditions to be investigated in a single laboratory period.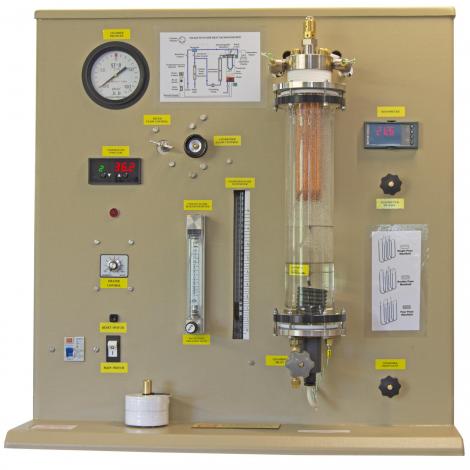 Specifications and resources
Panel: High quality ABS
Digital Thermometer: Resolution 0.1°C.
Differential Pressure transducer and Display.
Flow meters x 2: 10 to 90 cm³ s-1 and 1 to 12 g s-1.
Pressure Gauge: Range: - 100 to +100 kN/m2.
Safety Features:
- Steam chamber pressure relief valve, pressure switch and heater high temperature cut out.
- All electrical components earthed and fuse.