Product number: HTM90
The HTM90 series enables students to conduct a variety of vibration and mechanical fault testing experiments on a range of 'real life' scenario setups. The modular nature of the unit allows optional extras to be added as and when budgets permit.
The apparatus enables students to recognise the characteristic vibrations of particular faults and apply these to fault diagnosis, important for any student involved in fault-finding and repair. The unit also helps students to understand how several common vibration faults occur and how to prevent them.
Safety features include safety guard with micro-switch cut-off, emergency cut-off and instructor key lock to prevent unsupervised use of the apparatus.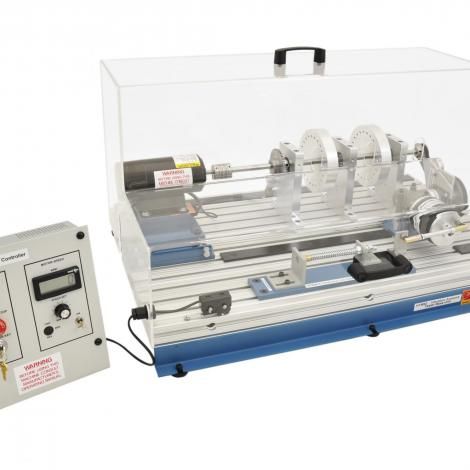 Specifications and resources
Polycarbonate Safety Guard with micro-switch safety cut-off
Adjustable Motor Base plate
Heavy Duty Industrial DC Motor - • Max RPM (unloaded) 3450
Instructor Key (safety feature)
Gear and sensor (for speed monitoring)
Three bearing pillars (bearings are changeable)
Two balance rotors with a number of screws and washers for unbalancing the system.