Product number: HPM1
The "MAGNUS" Universal Test Frame is constructed of a twinned steel channel frame fastened with high tensile fixings. This creates an overall structure size of 4.61m long, 2.53m high and 1.20m wide and an internal working space of 4.0m long x 1.6m high.
The twinned frame creates a 0.60m wide working "gap" between the vertical members allowing for long test specimens to be tested. The base feet distribute the self-weight of about 1 tonne to four anti-vibration levelling feet. The top channel members are used to carry either a single (HPM3) or double acting (HPM3A) hydraulic ram carriage (not supplied).
To accompany the "MAGNUS" Universal Test Frame is a wide variety of accessories. These assist the customer to arrange and test their own specimens.
Also available are a variety of experiments. There are two (2) physical experiments based on "plane frames", and a further three (3) experiments which are instruction manual based only, requiring the customer to create the specimens on site.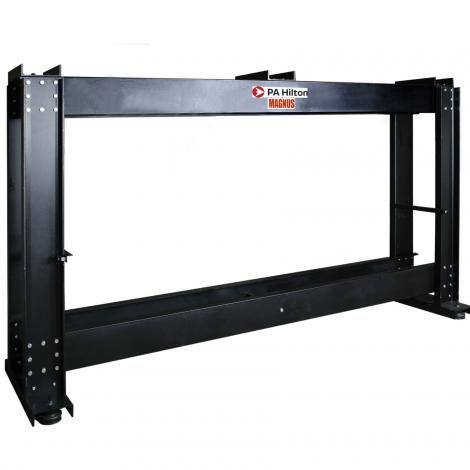 Specifications and resources
Steel used in frame: Nominally 300(W) x 90(H) Parallel Flange.

Base Feet: 1200(L)mm
Upright Member: 2340(L)mm
Upper and Lower Member: 4610(L)mm
Cross support: 600(L)mm
Tie Bar: Ø50.8 x 580(L)mm
Machine mounts: Ø160mm, M20, up to 100mm adjustment
ALL steel frame parts painted with corrosion protection.
300kN point test load capability
2 x 200kN four point bending test load capability