Product number: TSE
PA Hilton offer this range of tools as a complete kit to aid the maintenance and service of PAH refrigeration units in the field.
This kit pulls together all the relevant proprietary tools needed for users to be able to test, vac, charge and complete on-going maintenance of our range of refrigeration units. 
Users should always satisfy themselves that they have the correct skills and certification before undertaking any work on a refrigeration unit.  
Please refer to the technical specification for a list of the items provided in this service kit.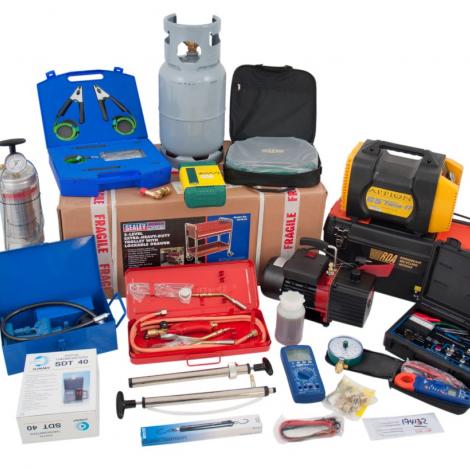 Specifications and resources
3 x Refrigerant Charging Hoses
1 x 3/8mf X 1/4mf Union
1 x Charging Cylinder 1000g Plus Heating Element
1 x Vacuum Gauge Adaptor
1 x Oil Change Pump
1 x Electronic Leak Detector
1 x Oil Charge Pump
1 x Charging Scale Standard Electronic
1 x Vacuum Gauge
1 x Hermetic Check
1 x Capillary Cleaning Kit
1 x Comparator
1 x Heater For Charging Cylinder
1 x Gasket For Charging Cylinder
2 x Maintenance Kit For Leak Detector
1 x Repair Kit For Capillary Cleaning Kit
1 x Vacuum Pump Oil 1 Litre
1 x Refrigerant Recovery Unit
1 x Recovery 12.3l Cylinder
1 x Vacuum Pump 105L/Min
1 x Heating & Ventilation Kit
1 x Digital Mutimeter
1 x Digital Clamp Meter
1 x Trolley + Lockable Draw
1 x Set of manifold gauges