Product number: 810
The 810 is designed to train students in the operation, fault finding, maintenance and repair of automotive air conditioning systems. It comprises a complete automotive air conditioning system on an alloy frame suitable for bench mounting. The unit operates on R134a refrigerant used in most current vehicle air conditioning systems and connections are provided to allow the use of standard R134a manifold gauges.

The compressor is driven by a synchronous AC electric motor and the complete unit has an internal Residual Current Device for additional operator safety. Apart from the drive motor all other controls are 12V as used in automotive air conditioning systems.

Temperature control is by an adjustable electronic thermostat and the evaporator has three fan speeds to show the effect of air velocity and varying load on the system

A standard Student Tool Kit and Test and Service Equipment Package are available as optional items.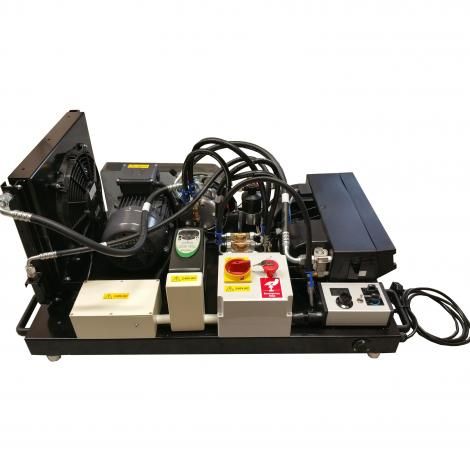 Specifications and resources
Electric Motor nominal 1500rpm with overload cut out.
Five cylinder open type compressor with duty of up to 7.5 Kw at maximum rated speed.
Air cooled condenser and fan with 12v dc motor.
Evaporator fitted with three speed 12 dc fan and Thermostatic Expansion Valve.
Electronic thermostat, adjustable for temperature control.
Transformer to provide 12v automotive control circuit.
Electrical control box with key locked emergency of button, on – off switch, ignition key and residual current device.