Product number: HSM58
The HSM58 is a modular, flexible, compact, safe, materials tester allowing students to conduct up to six (6) experiments on seven (7) different material types.
The results of these experiments allow students to gain a thorough understanding of materials properties and how the performance of these effects design.
The fully enclosed unit allows safe 360° viewing maximising visibility for large class sizes.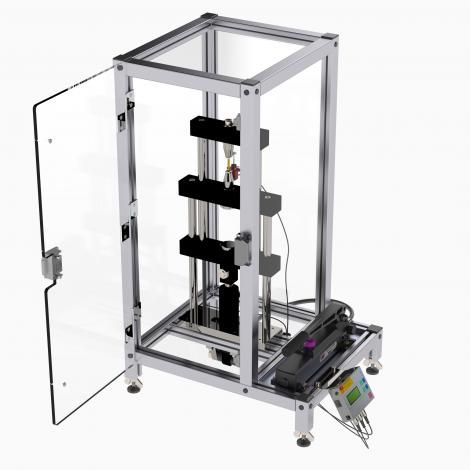 Specifications and resources
35kN Breaking Force
360° Safety Guard.
Sturdy ground steel pillars – for durability and repeatability.
Utilises linear slide bearings – for ease of use.
Digital Extensometer accurate to 3 decimal places.
Fixing and accessories designed to x 2.5 factor of safety.
Tensile Specimens: 85(L) mm; gauge length 36mm; Ø6mm neck diameter; M10 x 1.5mm thread.
Compression Specimens: Ø25 x 50(L) mm
Compression plates: Ø50mm
6 optional experiments available.