Product number: 814B
The Heating, Ventilation and Air Conditioning Control and Fault Simulator, Model 814b, enables the study and operation of various controls and control theory as applied to heating, ventilation and air conditioning systems.  It enables the user to simulate different conditions to show how the various components work in a control scheme.
Designed for single phase operation the demonstration case is divided into two main boards: 
a) Mimic Diagram with room temperature potentiometers
b) Control board with programmable controllers and Modules.
Indication lamps have been fitted to show pump change over, fan trip filter blocked, etc. Bar graphs on the dampers and control valves light up to indicate whether open or closed - i.e. what position they are in.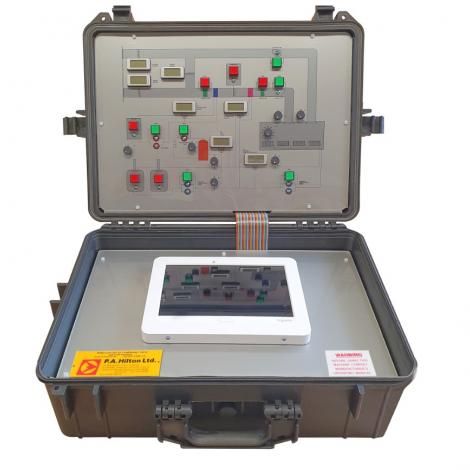 Specifications and resources
The following functions and key components can be simulated with this unit:
Heating, Ventilation and air Conditioning
Fresh air, recirculation and extract dampers
Filter
Cooling coil
Heating coil
Supply fan
Extract fan
Low limit control
Temperature control
Chiller plant
Chilled water pumps
Constant temperature pumps
2 Boiler sequence control
Compensated heating valve
Variable temperature pumps
Flow sensor
Outside sensor
Boiler flow sensor
Domestic hot water control
Diverting valve
Secondary pump
Temperature sensor
Frost protection
Outside sensor
Return sensor
Room Sensor (Anti condensation)