Product number: HPM2
A full range of rocker and roller bearings, plates, support blocks, clamps and dial gauge mounts are provided for setting up test specimens.  The roller diameter matches the depth of the half round rocker.  25 mm thick steel reaction plates provide a good surface for the rollers and rockers to bear on, while 6 mm steel distribution plates prevent crushing of timber beams.  Bearings are carried on transverse twin channel load supports, with additional height provided by 300(L) x 150(H) mm support blocks.
Two longitudinal dial gauge mounting bars can be carried on the beam bearings or on angle side supports clamped to the verticals of the "MAGNUS" Universal Test Frame.  A long transverse member allows dial gauges to be offset. 'G' clamps enable various arrangements to be secured within the frame.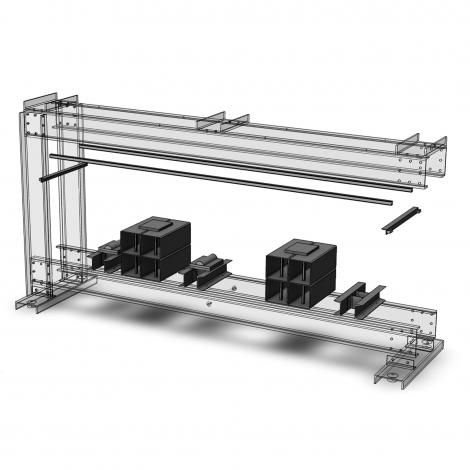 Specifications and resources
Load supports: 65(L) x 30(W) x 15(H)cm
Reaction plates: 30(L) x 25(W) x 3(H)cm
Support blocks: 65(L) x 25(W) x 25(H)cm
Longitudinal dial Gauge Support: 400(L) x 4 (W) x 4(H)cm
Transverse dial Gauge Support: 150 (L) x 4 (W) x 4(H)cm

2 Rollers: Ø4.5 x 30(L)cm
2 Rockers: Ø2.25 x 30(L)cm
Material: Steel