Product number: HVT14D
The HVT14 Spring Mass Vibrations Apparatus is a floor mounted unit to analyse the oscillations of a helical spring mass system. The sturdy base secures two vertical aluminium pillars in a vertical plane, this extruded section has integral grooves for ease of positioning set up parts and additional modules.  A top horizontal bracket keeps the supports at a constant width.
The spring can be loaded with a number of set masses as well as having the option of testing the spring oscillations in free, or damped conditions. A variable damper is attached.
The spring is then extended into a static loaded position and held in place via a locking mechanism. Vertical spring movement is measured by a contact linear displacement transducer. Supplied with the HVT14d is a sensor box which incorporates a digital oscilloscope, the output from the LVDT is plugged into this and the sensor box is linked to a host PC/ Laptop (not supplied) via a USB cable. Software is provided to view, record and analyse the resulting waveform from the sensor. The apparatus is supplied with a safety guard door panel (not illustrated) to help protect users against the moving parts of the equipment.
A number of modules are available to further experimental capabilities as well as being supplied with a detailed experimental operating and maintenance manual giving example experimental results and calculations.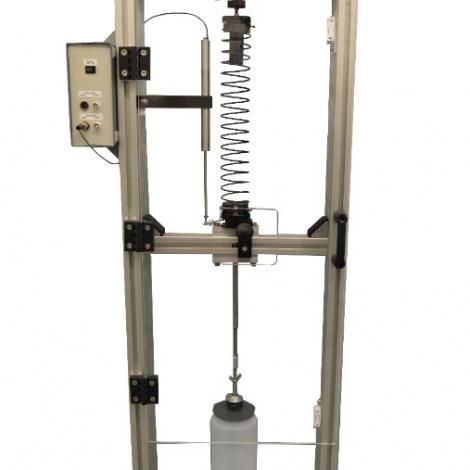 Specifications and resources
Rigid support frame 1400mm x 300mm x 600mm
Damping tub capacity 2 litres
LVDT Sensors
Sample standard spring wire diameter 3.175mm, pitch 12.7 free length 254mm, spring rate 0.241 N/mm