Product number: HTM19
The apparatus consists of an identical Hooke's coupling at each end of a shaft. The axis of each coupling can be independently varied relative to the main shaft axis. 
Each coupling has a pointer and protractor scale so that the angular difference between the input and output shafts can be determined for a range of shaft angular positions. A wide variety of angular settings for single or double couplings are possible. The couplings are mounted on a freestanding base. 
The pointer can easily be moved relative to their protractors. The angular position of the coupling axes can be quickly adjusted using the quick release knobs.
The rotational movement of the shaft is smooth due to the minimal friction bearings incorporated within each coupling arrangement. Graph plots of the angular movement can be made and used to compare results to theory.
A comprehensive instruction manual for student and lecturer is provided along with a 2-year warranty for the apparatus.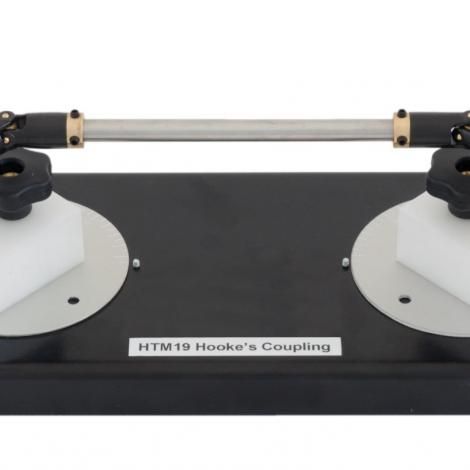 Specifications and resources
2 x Primary protractors dia 127mm
2 x Secondary protractors dia 101.6mm
1 x Connecting shaft 230mm (L)
2 x Nylon swivel brackets (100mm x 65mm x 50mm)
2 x Universal joints fitting 100mm bar