Product number: HVT14G
This module attaches to the top of the main unit via an angle bracket which locates into the frame extrusion. The studding length for the main unit has a sleeve added and then this module clamps onto the support studding which is normally used to fix the top of the spring into position.
This accessory requires the HVT14C to run the motor which rotates the disc that is used to lift and drop the support studding. This is done with a small bearing attachment, there is a single set displacement amount which is consistent throughout testing.
The frequency at which the motor displaces the system is controlled from the HVT14C unit which the proximity sensor also plugs into. This setup gives a constant periodic displacement of the top of the spring.
This unit is NOT intended for use in conjuncture with the HVT14E module. The unit comes with its own safety guard that fixes onto the top of the main extrusion frame.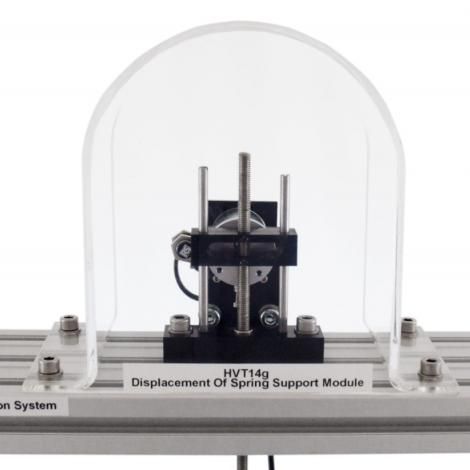 Specifications and resources
1 x Proximity sensor
1 x Top guard
1 x Displacement bracket
1 x Spring support guide