Product number: HST19
Two assembled pin-jointed frameworks (warren and basic roof truss) to measure the strains (hence stresses) and joint deflections. Each member, when assembled creates a truly pin joint. The frameworks mount onto two end supports. One support has a pivoting arrangement whilst the other has pivoting and rolling arrangement. The loads on the framework are applied at specific joints by using the screwjack loading mechanism supplied. Each framework member has a strain gauge arrangement attached. The signal from the loading mechanism and strain gauges is fed directly into the HDA200 Interface (sold separately).

To measure the deflection at specific joints a dial gauge is mounted on an extendable arm which can be rotated onto the joint being measured. This arm can be manoeuvred over the joint accurately.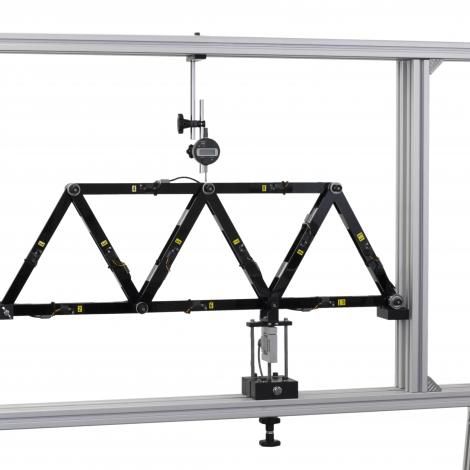 Specifications and resources
Roof Truss: 11 members; 900mm truss length; 30° member angle
Warren Truss: 11 members; 900mm truss length; 60° member angle
Acrylic Truss Members: 25(H) x 10(W) mm
Loading Mechanism: 0...500N
Digital Dial Gauge: 12.7mm travel; 0.01mm resolution
Half Bridge Strain Gauging