Product number: HB100D
The unit demonstrates the pressure losses that can occur in different types of pipes and plumbing arrangements. The unit comprises of 6 different horizontal sections, different diameter, roughness and material pipes, along with long and short radius bends, parallel sections and constrictions. The unit also has an expandable top section for looking at different available options or students own designs.

Isolating valves are fitted to each of the sections so that each component can be examined individually. A hand held digital manometer fitted with quick release couplings allows quick and accurate measurement of the pressure drop across any of the pipes/fittings.

In conjunction with the HB100K the unit can be used to examine various different pipe flow theorems covering topics such as Friction factors, Reynolds numbers, flow velocity's and laminar boundary layers for turbulent pipe flow in each of the different sections.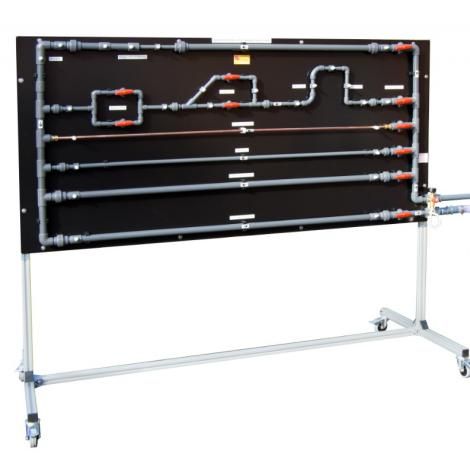 Specifications and resources
90° Elbow
Parallel pipes
45° swept tee
Long elbows
Short elbows
Sudden constriction
½" dia copper pipe
20mm dia PVC pipe
32mm dia rough bore PVC pipe.
32mm dia smooth bore PVC pipe.
10 valves.
22 pressure tapping points.
Expandable top section with 3 separating modules.
Flexible inlet and outlet allowing unit to be rotated 90° for space saving.
Detachable feet to allow wall mounting.